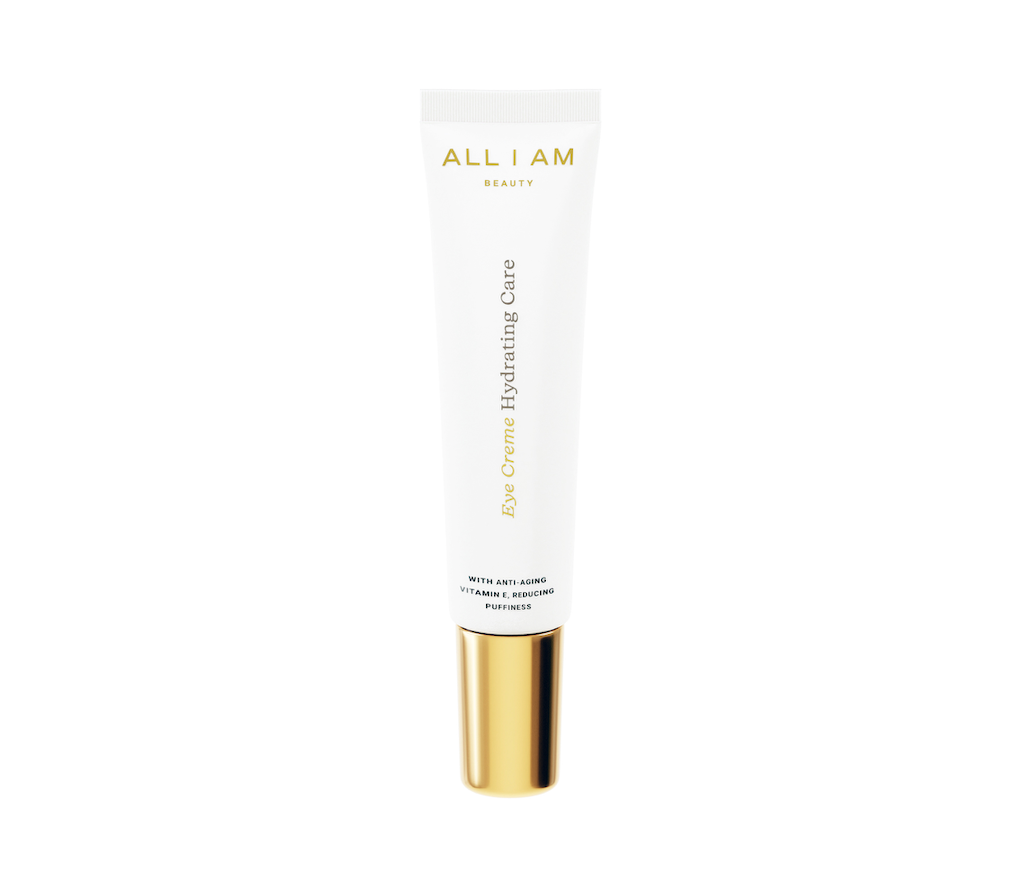 Eye Cream Hydrating Care (15 ml)
A moisturizing and lightly cooling eye cream with tightening and smoothing quality.
The unique formula is specially developed to moisturize, tighten, and reduce fine lines around the eyes. The eye cream has a cooling effect that reduces puffiness. The product contains peptides that work to tighten, vitamin C and E that protect the skin from UV rays and free radicals. Jojoba makes the delicate skin around the eyes hydrated. The result is a velvety and lovely soft feeling.
Eye cream that reduces dark circles, puffiness, and fine lines
Works to tighten and smooth
Contains Squalane which moisturizes
Fragrance-free and suitable for sensitive eyes.
Usage:
Apply morning and night by gently patting the product around the eye.


Tip from a skin therapist:
The eye cream is already cooling, but a tip is to store it in the refrigerator for extra cooling effect.


ALL I AM Beauty Skincare is made in Sweden, dermatologically tested, vegan, and cruelty-free.


Contains:
Squalane; a moisturizing and barrier-strengthening vegetable oil with origin from olives
Acmella Oleracea Extract from the flowering herb Spilanthes acmella modifies and tightens the skin structure and combats its aging by reducing wrinkles
Siloxanetriol Alginate is a polysaccharide from brown algae, Aesculus Hippocastanum Extract is derived from the flower of horse chestnut and together with caffeine, this cocktail has a tightening effect on fine lines and is moisturizing
Kappaphycus Alvarezii Extract and Caesalpinia Spinosa Fruit Extract together form a natural biopolymer, a multifunctional benefactor. This tightens and protects the skin with the help of a film that forms. A natural barrier against external stresses is created at the same time as an immediate lift and smoothing effect is visible
Dipeptide-2 and Palmitoyl Tetrapeptide-7 combat the appearance of bags under the eyes and reduce puffiness
Jojoba ester is a light moisturizer that calms irritated skin and reduces redness
Vitamin C contains a stable form of antioxidant that protects from oxidative stress from, for example, UV rays
Vitamin E protects the skin from oxidation and slows down premature aging
Squalane, Acmella Oleracea Extract, . Siloxanetriol Alginate är ett polysaccharide från brunalg, Aesculus Hippocastanum Extract härstammar från blomman på hästkastanj och ihop med koffein verkar denna cocktail uppstramande på fina linjer, samt är fuktgivande. • Kappaphycus

See what others think or write your own review further down the page. This product has in grades.
ALL I AM
Inspiration, guidance and quality products
"Since beauty is my biggest interest, I'm always looking for the best products. Being able to be involved in developing beauty products myself is a dream that is now coming true," says Amanda Schulman.