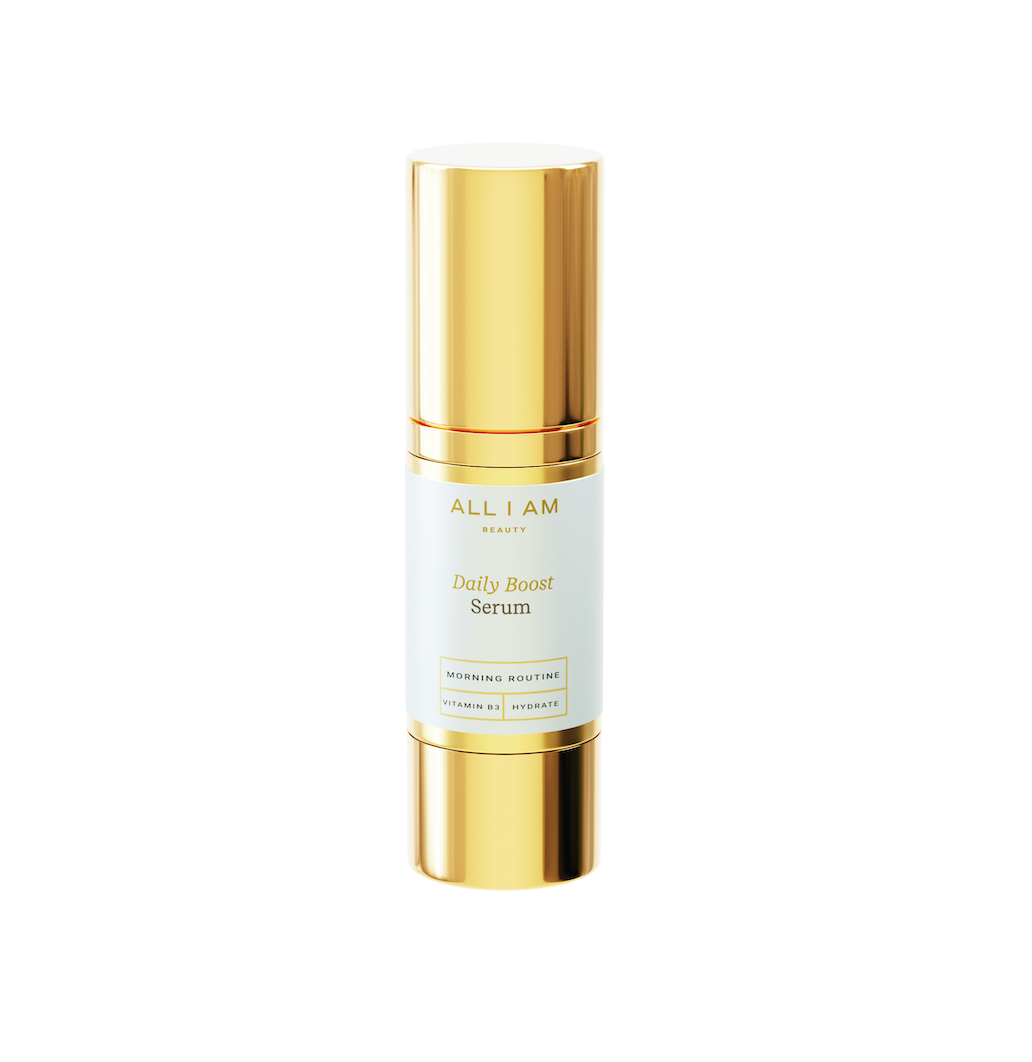 Daily Boost Serum (30 ml)
Serum that improves skin barrier and hydration in the long term
The Daily Boost Serum is a moisturizing face serum for daily use. It contains several hydrating ingredients, such as Niacinamide, also known as vitamin B3, which has a proven effect of strengthening the skin barrier and improving hydration, as well as pore-minimizing properties. Hyaluronic acid and polysaccharides deeply moisturize, while antioxidants like Vitamin C protect the skin from oxidation and premature aging by blocking free radicals. Softening esters from olive oil leave the skin beautifully smooth. The Daily Boost Serum also contains a gold shimmer that gives the skin a beautiful glow.
The product is lightly perfumed with a fresh scent.
Serum that intensely moisturizes and gives a glow.
Contains hydrating hyaluronic acid that provides a firming effect on the skin.
Improved skin structure and more even skin tone.
Directions for use:
Apply the Daily Boost Serum to the face, neck and décolleté every morning after cleansing and toning. Once the product has absorbed slightly, continue with your daily routine with day and eye cream.

ALL I AM Beauty Skincare is made in Sweden, dermatologically tested, vegan and cruelty-free.


Contains:
A peptide mix with proven effect of improved skin elasticity and reduction in the number and depth of wrinkles
Moisturizing hyaluronic acids of various chain lengths and molecular weights fill and hydrate the skin's surface and deep layers simultaneously
Hydroxypinacolone Retinoate is a stable form of Vitamin A in ester form, which is also less irritating than other forms of Vitamin A
Vitamin E protects the skin from oxidation, thus slowing down aging
Squalane is a moisturizing and barrier-strengthening vegetable oil derived from olives
Jojoba oil makes the skin luxuriously smooth, softens and soothes, and is vegetable-based
Niacinamide, which is an active form of Vitamin B3, provides moisture to the skin and tightens pores. The skin becomes more resilient and gains flawless radiance
Moisturizing polysaccharides and skin-matching amino acids that resemble the skin's natural moisturizers provide fantastic hydration to the skin
En peptid-mix som förbättrar hudelasticitet och minskar rynkor, fuktgivande hyaluronsyror av olika kedjelängder och molekylvikt, Hydroxypinacolone Retinoate som är en mindre irriterande Vitamin A, Vitamin E mot oxidativ stress, Squalane för mjukgöring och barriärstärkning, Jojobaolja för lenhet och lugnande effekt, Niacinamide för fukt och porförminskning, och fuktgivande polysaccharider och aminosyror som liknar hudens naturliga återfuktare ger en fantastisk återfuktning till huden.

See what others think or write your own review further down the page. This product has in grades.
ALL I AM
Inspiration, guidance and quality products
"Since beauty is my biggest interest, I'm always looking for the best products. Being able to be involved in developing beauty products myself is a dream that is now coming true," says Amanda Schulman.